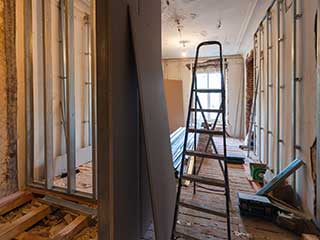 Drywall installation is a great alternative to plaster application because it can be completed in as quickly as two days, at least if its performed by experienced workers like members of our team. Plasterwork, on the other hand, could be a weeklong job. Wallboard sections are also much easier to set up, so when it comes to large-scale construction projects, using this type of material is often preferable. In commercial applications, level 5 finish painting is usually used, and level 4 paint is the usual choice for residential properties. The choice can also depend upon the customer's preference.
Some General Dimensions
Drywall is manufactured in various panel sizes in order to suit different applications. Common thickness standards are thirteen and sixteen millimeters, but 6.4 and 9.5 millimeters are also some of the readily available options. 48 and 96-inch wide panels are produced in varied lengths. Type X panels were created to make plasterboards that can be fire-rated. Although the material has some natural fire-resistant qualities, these gypsum boards have special additives mixed into their core to make them rated. They come in 5/8-inch thickness. Panels of a similar thickness are also used for soundproofing.
Customization And Installation
Drywall can be cut using a big T-square and a utility knife to score the finished size, cut the backing and break the sheet. To make holes for switches and outlets, a keyhole saw or a rotary tool is used. It is then fixed to the wall with screws, glue or nails. Clips or fasteners are also being used nowadays. They support interior corners and are able to replace traditional metal blocking. They contribute to saving on labor expenses and materials, and they also promote energy efficiency.
Setting Things Up
The screws used for the drywall hanging process have curved tapering threads to allow for self-piloting and faster installation. They slightly recess into the boards after they are driven in. Screws used for wood framed drywall sections have largely spaced threads and acute points, whereas the screw threads of units used for steel framing are finely spaced. Sometimes, plasterboards are attached using an adhesive substance, and the seams between the sheets are concealed using joint tape and layers of gypsum mud compound.
Experts Exist For a Reason
It's important that you remember that property restoration isn't something you have to undertake on your own. Our experts will be more than happy to help you. Gypsum boards can be affected by water damage and may develop mold if they aren't cared for properly or if the damage isn't removed in a timely fashion. Give our team at Drywall Repair & Remodeling Calabasas a call if you need any help with your home repair or renovation efforts.