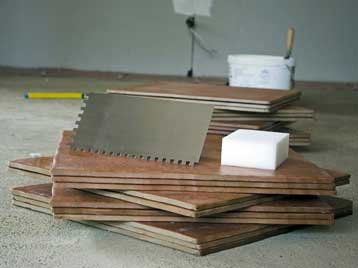 Beautiful tiling can bring any room a lot of décor without occupying any space. Floor laminate mimics the attractive rich texture of wood using hardwearing tiles that you can clean easily without worrying about moisture. Our custom decorative tile designs let every customer find something to add to their property. Whether for indoor applications or outdoors, tiles can offer you a lot of benefits without many downsides. You can consult with our local Calabasas tile installation contractors to get a free estimate on this type of project. Installing tiles can prove arduous for the inexperienced. Good thing all our remodeling contractors have been laying tiles outdoors and indoors for well over a decade!
Ceramic Tiles – Affordable Earthy Tones
If the name doesn't clue you in, ceramic tiles consist of ceramic materials, also known as potter's clay. This contributes to the red and brown hues of ceramic tiles and gives them their rich and natural appeal. The main benefits of ceramic tiling are the ease of installation and affordability. You can have the ceramic tiles installed in your Calabasas property cut in a wide range of ways. This makes for a much faster tile installation process that also doesn't carry as hefty a price tag. The downside is reduced durability, relatively speaking. While great for indoor use, ceramic tiles for outdoors prove a less ideal option.
Decorative Porcelain Tiles
The beauty and clean aesthetic of porcelain tiling make this option very popular. White porcelain has a reputation for class and décor, and you can certainly see that with porcelain wall and floor tiles. The hardwearing nature of porcelain tiles makes them great for outdoors and indoors. Of course, the increased durability also creates a more complex installation process that takes more time. And the cost tends to go up as well. But if you're looking for beautiful tiles to install in your Calabasas residence or commercial space, porcelain can offer you a wide range of aesthetics and décor styles.
Tiles For Calabasas Kitchens & Bathroom
While aesthetic is a main attraction point of tiles, that's not the only reason while tiling is installed in bathrooms and kitchen areas. The smooth and moisture-resistant surface of tiles makes them easy to wash, scrub, and clean. That's very important for kitchen wall tiles, for example. The process of cooking can often result in splashing liquids and oils, so you need surfaces around that you can easily wipe down afterward. That's why marble worktops, which we also install, make for great food preparation kitchen areas. In bathrooms, wall and floor tiles need to have moisture repellant surfaces to prevent splashes of water from soaking into the drywall and creating mold or other funguses. Tiles installed in bathrooms protect the walls and floors and also give you a nice decorated or single-colored aesthetic.
Floating Wood Floor Tiles
Many people love the textured look of laminate flooring and opt to install it in homes, businesses, and various other properties. The décor of real timber brings something classic and appealing to the room's interior design. However, wood also brings a lot of maintenance requirements. That's something that laminate tiling doesn't carry. You can get laminate floating wood tiles installed indoors or outdoors and enjoy the beautiful timber-like look without worrying about upkeep. Our local tile installation contractors in Calabasas love helping customers create beautiful designs and aesthetic décor. Call us and get a free estimate on custom tiling and remodeling projects!
A Simple Yet Effective Addition
There is a variety of benefits that come with adding tile to your home in whatever room you see fit! Tile is sturdy and makes damage much harder to occur so it will last you for a while, and also tends to be waterproof. This is great for areas like the bathroom and kitchen where spills or other accidents may happen to protect from water damage. In that vein, it's also much easier to clean as well! Due to the array of differing types and looks, it also makes it easy to find the perfect style that suits the look of your home overall. Should anyone in the home suffer from allergies, it's also hypoallergenic!
How Many Types Are There?
While there are of course variations of them all, there tends to be four main types that most technicians use. Ceramic is the most common since it's the cheapest, while natural stone is the most expensive. That being said, natural stone is a beautiful addition with stark colors and tones, as well as lovely patterns in types like granite and marble. Glazed porcelain is the strongest of them all, and is also the most resistant to bacteria and mold. Glass can come in all sorts of colors and looks, but has to be treated more carefully.
We've Got It All Covered
Our experts will get to work right away on adding tile to the area, wherever you see fit. The designated spot will be cleaned thoroughly to ensure that the adhesive will stick properly, and be examined for any dents or otherwise that might disrupt the smoothness of the tile once completed. The tile pieces will be applied in the determined pattern with the adhesive using a spacer to keep them even. After the adhesive dries, the grout and sealer can be applied.
Give Your Home The Perfect Make-Over
It's time to give your household a brand-new look before you know it! Call Drywall Repair & Remodeling Calabasas today and let us schedule your appointment. You won't regret it!
Count on our team for:
Tile Installation On Wall
Plaster Ceiling Repair
Tile With Wire Mesh
Drywall With Texture