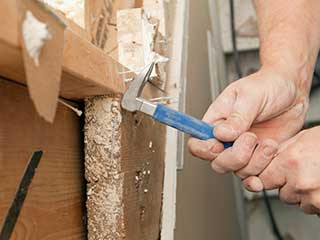 Damage Happens Over The Years
If you've ever hammered a nail into the wall to hang up a picture or otherwise, you know that it doesn't take much to put an irreversible hole in your home's drywall. Those spots can really add up over the years, along with more accidental harm due to children or pets, or even cracks from settling. Whatever the cause, there's no need to be stuck with your walls looking worse for wear any longer! Our experts would be glad to come out and get them looking smooth and beautiful again before you know it.
Paint Won't Be Enough
You may be tempted to simply try painting over the problem, or even using wallpaper, to cover it up and avoid getting it repaired. Unfortunately, this won't really solve the issue. Paint usually only brings out the damage even more and makes it increasingly noticeable, and wallpaper can't cover up all harm done to a wall. It's best to simply let us repair it, which will take less time than you think and will look far better in the long run!
We Can Do It All
No matter how big or small the damage is, we'll tend to it right away with our high-quality equipment and materials so you can rest assured that it will last you for a long time. Larger holes or otherwise will require patches, which involve measuring new drywall and cutting it to the right size. Once the new piece is inserted and covered with spackle to hold it into place, it's allowed to dry then sanded to smooth it. Smaller holes can simply be filled up with spackle to take care of them. After all this is done, we can then paint, wallpaper, or whatever you'd like to finish your wall and get it looking lovely.
Why Wait When You Can Call?
Drywall Repair & Remodeling Calabasas will get your walls looking like brand-new again without breaking the bank. You'll be surprised at how fast it gets done! Just contact our team now.
Looking for more? We also offer:

Popcorn Ceiling Removal & Repair

Drywall & Ceiling Texture

Concrete Tile Installation

Drywall Ceiling & Wall Joints